Lulu & Mom On Locs, Identity and Hair Journeys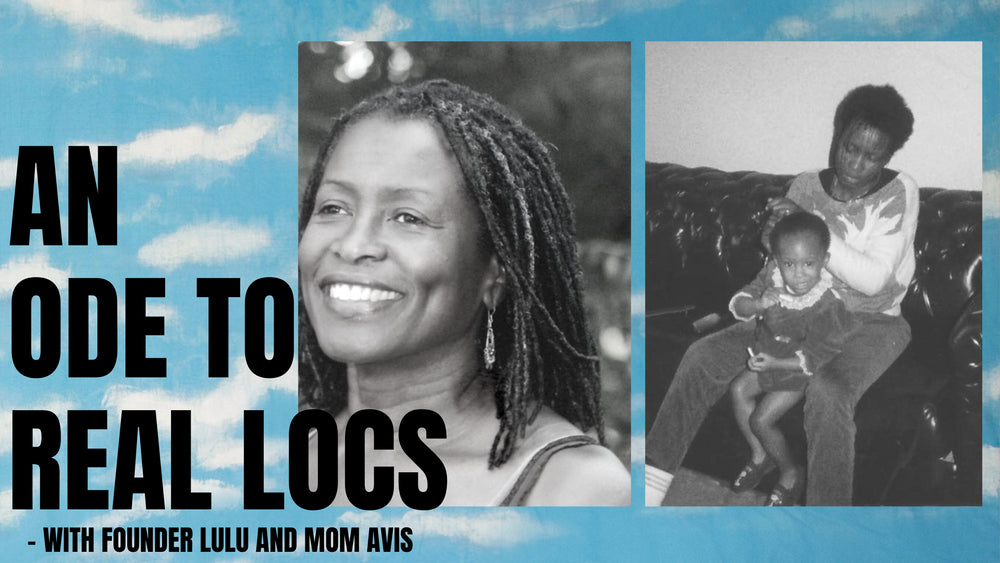 An Ode To Real Locs 
Our ancestors mastered the art of story-telling through their innovative styles, which cultivated hair as an integral feature of our identities. They paved the way for us today to continue experimenting and expressing ourselves through our hair choices and birthed a legacy of protective styles still widely donned to this day.
The evolution of our favorite style, locs (unbiased of course) tells a story of strength, resilience, and versatility. Recorded as far back as 2,500 BC, to now making appearances on the red-carpet, locs have continued to make a statement.
We sat down with BOHO CEO Lulu Pierre and her natural-loc rocking mother, Avis,  to tell the tales of their own generational journeys. We discuss the significant role hair plays in embracing yourself, while exploring the fascinating heritable influence of Avis' traditional locs on the contemporary Boho Locs we hail today.
ON THEIR IDENTITY

"I love the versatility of my natural afro hair, it's a true form of self-expression to me. I love being able to wear it in so many different ways - it really gives me a sense of joy when I create a new style that I can express myself through. When I'm feeling experimental I might rock Purple Haze, if I'm feeling more traditional, I'll put in a darker color.
The goal has always been to create styles that people feel really good in, that allow their personalities to shine through."
"I've been growing my locs for over 15 years now. It's a part of my identity and ability to make a statement about who I am."
ON THEIR HAIR JOURNEYS 
"I've always had natural hair, especially short cuts. I like my head shape so I wanted to flaunt it with styles that showed it off. I relaxed my natural hair once, but it was difficult to control. 
I was inspired to grow my locs because it was an easier option for me. I decided after seeing other Black women, admiring their locs for some time, and thinking 'wow I'd love to have that', to start growing them myself. I love the freedom my locs give me. I don't have to keep maintaining them, they're perfect just as they are. I just shake my hair out in the morning, and I'm ready to go."

"My journey has always been very experimental. My first business was a hair salon, and a huge part of my life has always been focused around hair. You can tell what stage I'm at in my life just by looking at my hairstyle. I'm product developing right now, so I'm testing and wearing a new look. My hair tells a fascinating story of my progression in entrepreneurship.
Boho Locs 2.0 is in the works, and we're doing something you have never seen before. If I tell you what to expect that may ruin it, but really I would say to expect the unexpected."
ON THEIR HERITAGE
"My hair represents my heritage and where I'm from ethnically. I passed down the regimes I learned from my parents and taught Lulu what she knows now. I took great pride in doing Lulu's hair as a child. I remember taking the time to twist her hair for a wedding, and I was in awe of how beautiful and natural she looked."
"My hair has always allowed me to own who I am and be proud of where I'm from. The options and access to real versatility we have through our natural hair is incredible. We can switch it up if something doesn't work for us, I see it as a real positive of our culture.
My sister has grown sister locs (a thinner version of locs), and I love the pride that comes with it, so I'm really considering growing my daughters the same. Luckily she loves the idea, she embraces and loves her natural hair. Seeing her grandma always be natural has sparked confidence in her perception of how she views her own. Looking back on photos of my mum with shaved and short styles, it also gave me the confidence to be free with my hair choices."
ON FAUX LOCS
"I feel so proud that Lulu has taken influence from my hair choices. It wasn't intentional, but she grew up knowing that having your hair in your natural form is a statement in itself. I'm proud that she's taken locs in a different way that suits the climate today. Being able to wear locs instantly is great for those who don't want the commitment."
"I wanted to replicate the natural locs I saw on my mother, my aunties, and my sister, but with the flexibility to change the lengths and colors. Boho Locs truly became an ode to real locs. I take a lot of time to hand-design Boho Locs to make sure they look as natural as possible, out of respect to real locs.
When I first went to my local beauty supply on the hunt for faux locs, I was disappointed with how unnatural they looked. They just didn't do locs the justice they deserve, quite frankly it felt disrespectful. From then on, I took it upon myself to create something as natural to real locs as possible, but I would love to grow my own locs one day."
Our roots tell a story that represents the experiences, journeys, and personal connections with ourselves through the styles carried down throughout Black History.
From generation to generation we've proudly worn our locs, braids, twists, and everything in between, and here at Boho Locs we make a statement for Black women to unapologetically rock whatever they want.
Inspired by sister locs, Empress is our most authentic style yet. The low lustre and intrinsic density are hand-designed by Lulu to serve the realest looks. 
Available in three lengths - Short and Sweet (16"), Classic (18-20") and Deluxe (26") 
Continue reading
Comments