Black History Month With The Boho Tribe!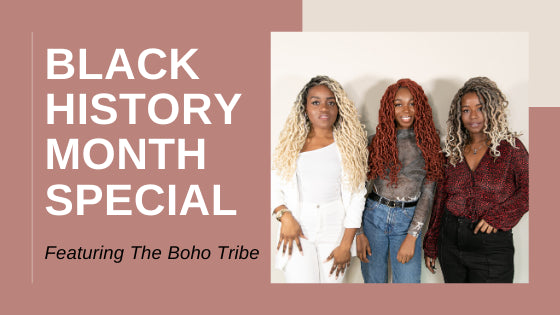 We're taking you Behind The Scenes...
Black History Month in the US is officially coming to an end, although it's a fact that BHM is every single month of the year. ✊🏿
Regardless we decided to end it on a high and go big with a flash sale on our most fun, and diverse Locs that prove black women can really slay in any style, and any color because, melanin.
*sale now ended*
We brought members of the Boho Tribe in to visit the Boho HQ, for a chance to try a new style that they haven't rocked before.
Boy, we had a lot of fun! and of course, we had to film some exclusive content so we could share and involve the rest of you beautiful Boho Tribe members.
Meet the babes who dared to try and test these statement Boho styles.
Phew the black girl magic is real guys. 
Make sure to click on the tagged links above to follow these queens on Instagram, and to see if they're still feeling their new style.
Sis, we know y'all love an install, so we had to show you the process of the hot
Blaze Goddess Locs
being installed on the beautiful Natalie, by the talented London stylist
@devinerootz
. 
Can we just have a minute's silence for the transition please. It's great to be black. 
After all the fun with installs and the shoot, we used this opportunity to quiz the Boho Tribe who volunteered on their thoughts and the journey they've had with us.
Watch the video to see what they had to say... 
These queens just confirmed exactly what we do it for. Simply making black women feel heard, and encouraging us all to embrace our given greatness and channel our inner goddesses!
Boho Locs was created FOR US AND BY US! We're making Black History every day of the year. Period. 
Why not leave us a comment with one of the many things you love about being black, and if you'd rock any of the Boho styles featured.
Continue reading
Comments