Embracing Equity: How Black-Owned Female Brands Can Lead the Way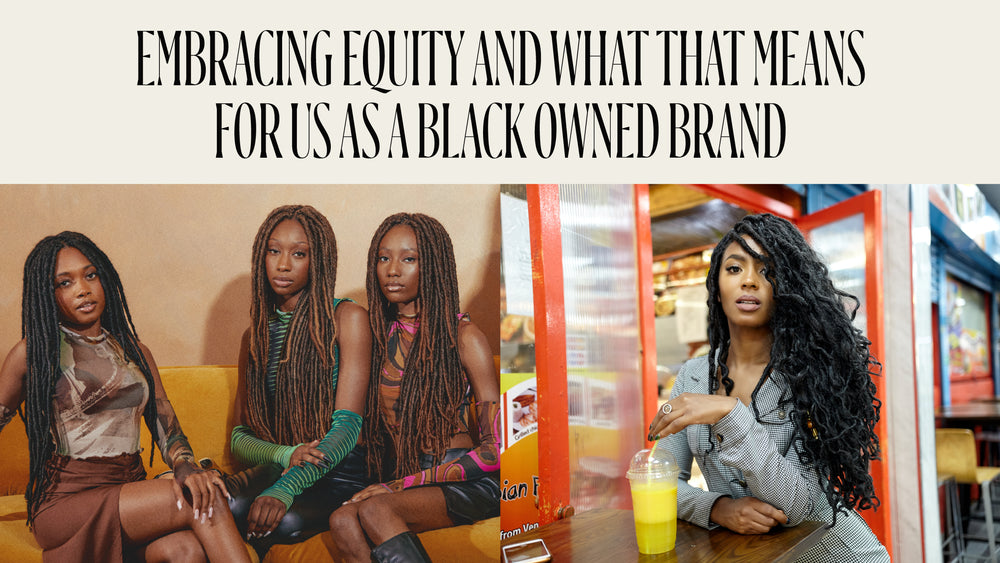 Today is International Women's Day and we want to focus on Embracing Equity, we stand in solidarity with our sisters in the fight for equity. As a Black woman-owned business, we, at Boho Locs, understand the unique challenges faced by Black women. 
We believe that all women, regardless of their race, ethnicity, or socio-economic status, deserve to be treated with respect, have access to the same opportunities and resources, and live in a world that is free of discrimination and prejudice.
Boho Locs was created by Founder and CEO Lulu Pierre after her hair was damaged by a Brazilian Blowout treatment. She began creating her own faux locs but was also unsatisfied with the quality of the crochet locs available. She then decided to hand-customize locs herself and created something unique and beautiful. Boho Locs quickly gained popularity on social media, and our loc styles have now become highly in demand and frequently sell out within a few days. 
Read more about Lulu's process for developing Boho Locs in our website's "Our Story" section and in our most recent "Founder Interview" blog post.
For us, embracing equity means actively working towards a more diverse and equitable workplace where everyone is respected and valued. We strive to create an inclusive environment where all employees, regardless of their race, gender, or sexual orientation, can bring their best selves and their authentic voices, without fear of judgment or intolerance.
We are dedicated to making a positive impact on our community and work with a variety of Black female stylists that we highlight on our Boho Stylists page from the US to across the pond in the UK. 
Our Hair Is A Statement Of Style, An Affirmation Of Beauty, And an Expression Of Self-Love. - Ademola Mandella
It's important to uplift and power these stylists, these women who inspire confidence in other Black women. Our company's mission is to build up Black-owned businesses and encourage more international hair brands that cater to Black women to be owned by Black women.
We are committed to making a positive difference in our community and standing in solidarity with our sisters in the fight for equity. By embracing equity, we believe that we can create a better future for all women. We seek to provide valuable resources for all our customers, and we have taken specific steps to ensure that our staff members and customers feel respected and valued.
We have also had the pleasure of working with Naturalicious - an award-winning, global beauty brand founded by CEO Gwen Jimmere. Naturalicious provides innovative hair care and beauty solutions for busy women on the go. We collaborated with them for a giveaway to launch our Blonde, Bad & Boujee locs collection last year, and it was a great success.
Continuing to work with Black female-owned businesses is an essential part of our mission, as it helps us to support our community and promote our collective growth. It's all about looking out for each other and building a stronger network.
Focusing on our loc styles themselves, we create our locs, twists and accessories to cater to our natural hair textures, highlight our beautiful melanated skin and give Black women a variety of styles to choose from. There's something for all of our beautiful Black queens to feel beautiful, fierce and more importantly seen in a market not catered to us and our hair. 
We spend an ample amount of time creating our loc shades just right, and we always strive to deliver the best quality hair to our customers. When you shop Boho Locs, know that you're shopping quality. Check out the full collection on the site and join the Boho Locs movement! 
Shopping from Black-owned brands shouldn't be a controversial topic, and we believe that uplifting these businesses can help them grow and thrive in society. It's not controversial to support our community when there has always been a space for non-Black brands in the industry since the very beginning of the beauty industry itself.
Black female influencers in the beauty industry are making a huge impact on social media. They are becoming increasingly visible and influential in the industry, creating content that is inspiring and empowering to many people. From makeup tutorials to hair tutorials, they are pushing boundaries and creating new trends in the beauty world. 
You don't make progress by standing on the sidelines, whimpering and complaining. You make progress by implementing ideas. - Shirley Chisolm
They are also inspiring more and more people to support and celebrate Black beauty. They are bringing attention to the beauty of Black women and their unique styles, as well as highlighting the importance of self-care and self-love. With their presence on social media, they are helping to create a more inclusive and diverse beauty industry.
Jackie Aina (@jackieaina) is one of the most successful beauty influencers in the industry today. She began her wildly successful Youtube channel in 2009 and has since made a name for herself in the beauty world. Aina, a Nigerian-American entrepreneur, specializes in makeup but also showcases her unique, unapologetic wig styles. 2020 saw the launch of her home goods line, Forvr Mood, which will feature candles, skin-care products, and fragrances. Aina continues to use her platform to empower her audience and inspire creativity.
Christin Brown @curlfactor is a true Instagram star in the curly and natural hair world. She's had the pleasure of working with some of the biggest names in entertainment, like Yara Shahidi and Tamera Mowry. But what's the most special about Brown is her genuine passion for hair and her dedication to her craft. Based in Santa Barbara, she was the 2021 Oneshot Hair Awards Winner and a 2022 Finalist. You can find tutorials and additional information about virtual consultations and one-on-one curl courses on her Instagram Reels feed and website.
Chizi Duru @chiziduru is an amazing and talented YouTube vlogger who is making waves in the hair community. She specializes in creating tutorials for styling 4C curls, which are often misunderstood and underrepresented. Not only is Chizi Duru's content informative and helpful, but it is also full of humor, laughter, and motivation. On her channel you will find a variety of natural and protective styling ideas, from twists to knotless braids, to get you inspired to care for your 4C curls.
Che Angelique @heyitscheee__ is an excellent resource for those seeking to learn more about locs and their maintenance. She shares her experience with locs from the very start of her journey, offering helpful tips and advice on how to care for and style them. With locs becoming more popular in recent years, knowledge of proper care and maintenance is essential to ensure the style remains low-maintenance and attractive. Even though Che has now unlocked her hair, her invaluable knowledge and experience remain and can be found through her hair tutorials on her social media channels. Her journey provides a great source of information to those beginning their own loc journey.
As we celebrate International Women's Day, it is important to remember that the fight for equity is ongoing. We believe that Black women deserve equal access to resources, opportunities, and positions of power. By providing a level playing field for everyone to succeed, we are taking active steps toward creating a better future for all Black women. We are proud to work with Black female-owned stylists and brands and we recognize the importance of supporting Black-owned businesses for our society to thrive. Our commitment to making a positive impact on our community is unwavering, and we stand in solidarity with our sisters in the fight for equity. By embracing equity, we can create a world where everyone has the opportunity to reach their full potential and achieve their dreams.
Continue reading
Comments